To strengthen our collaboration and ensure our partnership grows steadily, commercially and operationally, we have built this dedicated service model for you and our asset managers. Here, we demonstrate how we support you and outline what your Saxo representatives do.
Your dedicated account manager
Your account manager can answer general, technical and operational questions. This includes client onboarding, funding, all post-trade queries and reporting.
They can also help with:
Escalating operational cases where SLAs have been breached
Queries requiring cross-department coordination
General questions about the Saxo platforms (such as SaxoPartnerConnect)
Advice on relevant Saxo services, processes and procedures
General questions about account reports
Dedicated service calls
If your Account Manager cannot help, they will guide you in the right direction.
How to contact your account manager  
Use SaxoPartnerConnect to create an Institutional service case. Your account manager will answer your query.
If you need to reach your account manager urgently, contact them directly via phone or email.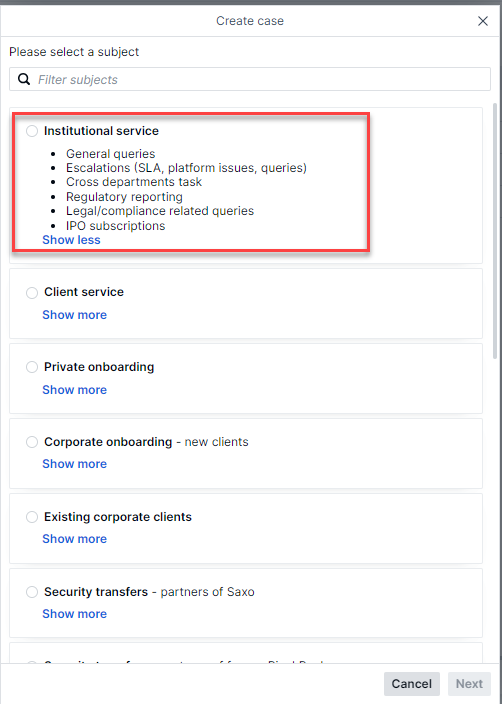 Your dedicated relationship manager
You also have access to a relationship manager. Their main role is to work closely on developing the relationship with your organisation. They can help you with:
Sales and commercial initiatives
Prices and contract negotiations
Introducing new products, services and related negotiations
Commercial discussions or disputes
You can contact your relationship manager directly by phone or email.
Access to our Trading Desk
For queries about market risk, trade execution or order management, please contact our Trading Desk directly, either by phone or the platform's live chat. Click here for more information .
Daily operational queries
If you have a post-trade query (i.e. funds transfer, payments), task execution or general question, you can see which team you should contact here, and respective SLAs. They can all be contacted via SaxoPartnerConnect, and are always ready to help.